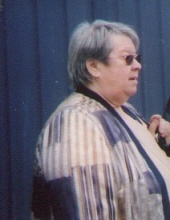 Obituary for Linda Marlene Hogg
Linda Marlene Whitehouse Hogg, age 73, of Whitesburg, Kentucky, died Friday, April 13, 2018 at the Hazard Appalachian Regional Medical Center. She was born in Okdland City, Indiana on November 16, 1944 to Wilburn Whitehouse and Edith Lytle Whitehouse.

Survivors
Children- Sussie (Phillip) Slone, Lisa Ann Veach and Virginia Lee Dyson
Grandchildren- Jonah Lee Boggs, Sheila Ana Derisma, Treshon Evans, Tylonda Evans, Summer Lynn Kell
Brother – James Edward Whitehouse
Sisters- Brenda Darlene Whitehouse, Sheila Kaye Scales, Cinda Ellen Kolb
Preceded in death by Husband- James Harvey Hogg
Daughter- Trudy Lynn Hogg
Parents- Wilburn and Edith Whitehouse
Brothers- Rex Steven Whitehouse and Douglas Lee Whitehouse


Funeral services for Linda Marlene Whitehouse Hogg will be held 11 Am Tuesday, April 17, 2018 at the Hindman Funeral Services Chapel with Willie Slone and Jerry Caudill officiating. Burial will follow in the Hogg Cemetery at Rosanna, Kentucky. Friends may call for visitation
Sunday and Monday evenings 6-9 PM with additional services each evening at 7 PM.
Previous Events
Visitation
Hindman Funeral Services
619 Hindman Bypass
P. O. Box 104
Hindman, KY 41822
Additional services at 7pm
Visitation
Hindman Funeral Services
619 Hindman Bypass
P. O. Box 104
Hindman, KY 41822
Additional services at 7pm
Funeral
Hindman Funeral Services
619 Hindman Bypass
P. O. Box 104
Hindman, KY 41822
Willie Slone and Jerry Caudill officiating