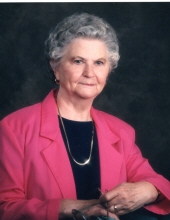 Obituary for Nola Cook
It is with great sorrow that the family of Nola Cook (also affectionately known by her nickname "Tom") announces her death at age 92. Born to Will and Flossie Hall of Dry Creek, KY on January 14, 1926, she is survived by her five children: Jerry (Verna Kay) Cook, Sharon (Peter) Walstrom, Mike (Jewell) Cook, Bonita "Bunny" (Jon) Baldwin, and Ted (Gwen) Cook. She was also blessed with eight grandchildren, four step grandchildren, and seven great grandchildren. Over the years, Nola mourned the loss of her husband, all fourteen of her siblings, and many good friends, like Velma Bentley. She cherished the ones who remain, like Opal Caudill, all the more.

As a child, Nola was disappointed not to be allowed to attend school past eighth grade. At age 17, she left Knott County for Louisville to aid the WWII effort, making casings for artillery shells. She worked at a factory until the boys came home from war; one of these was her childhood sweetheart Jerry (Jay D) Cook. They were married in 1946 and shared their lives at Dry Creek until Jay's death in 2001.

Nola highly valued education. In 1972, she went to evening school to get her GED. In 1974, she graduated from the Hazard School of Practical Nursing and became an LPN. She was a nurse at Our Lady of the Way Hospital in Martin, Highlands Regional Medical Center ICU/ CCU in Prestonsburg, and Glasrock Home Health Care. She enjoyed nursing, her patients, and her colleagues. As a home health nurse, she had many great adventures driving the hollows of Eastern Kentucky in search of her patients. She loved laughing and talking with new people, and made friends wherever she went.

An informed and principled citizen, Nola loved her community. She was an advocate for the children of Dry Creek and Eastern Kentucky. She thought children in Dry Creek should have the same opportunities available to children anywhere else. She worked for paved roads, school bus routes, new playground equipment, and good teachers. She had a special scorn for crooked politicians. She was concerned about the economic downturn in Eastern Kentucky, but remained stubbornly optimistic about its future.

Nola had high expectations for others, and for herself. She expected her children to "buckle down" and do their best in school. She was loving, hardworking, energetic, creative, and opinionated. Her disapproval was best avoided! In addition to raising five children and maintaining a household, Nola tended a vegetable garden and at times cared for farm animals. It was sometimes a hard life, but she rose to the task. She was tough, but also feminine, a beautiful and stylish woman. Her children were secretly proud she was their mother. Others sought her advice and counsel, knowing she would keep their trust. People loved her, and she them. She also knew her way around the kitchen. Her family relished her Sunday dinners featuring fried chicken and chocolate cake. Her gingerbread was legendary. She was also an enthusiastic UK fan, sometimes getting so excited in the middle of a game she couldn't stand the suspense. She would then snap off the TV and declare, "I'll have to read about it in the newspaper!"

As Nola's children grew up and moved away, she was excited to travel to new parts of the country to visit them. She made trips to many places including Florida, Wisconsin, and New Mexico. Although she saw the Atlantic Ocean on the east coast and the Grand Canyon out west, she still thought Eastern Kentucky was one of the prettiest places on earth.

Nola took great pride in the activities and accomplishments of her children and grandchildren. She was a beloved Mamaw, who made sure her grandchildren were kept warm by her beautiful quilts. Making these quilts in dazzling color combinations was a favorite pastime. Her flowerbeds were also a great source of pleasure. She loved blouses with bows, butterflies, perfume, and curls in her hair. Great grandchildren arrived late in her life, and she enjoyed those who lived nearby. She also loved the Old Regular Baptist Church and those who held to its teachings.

In 2015, due to medical concerns, Nola left her longtime home of 55 years. She moved to Bowling Green, so her daughter Bunny could help her better navigate old age. It was a chance to take it easy, but Nola never really took to rest and retirement. She was too accustomed to working and taking care of others. In her last two years, strokes made life increasingly difficult. In February 2017, she moved into a nursing home in Bowling Green. Following more strokes, she died peacefully in the presence of her daughter. She was a truly special person, and her passing leaves a hole in the lives of many. Hindman Funeral Home is in charge of final arrangements. Visitation will begin there at 4 PM Sunday, February 18, with a service following at 7 PM. Funeral Services will be Monday, 11 AM, February 19, 2018 at Dry Creek Providence Old Regular Baptist Church. Burial will follow at Joe Hall Cemetery, Topmost, KY. Nola's family invites everyone to join in this acknowledgement of the sadness of her death, but also joy in the remembrance of her remarkable life.
Previous Events
Visitation
Hindman Funeral Services
619 Hindman Bypass
P. O. Box 104
Hindman, KY 41822
Additional services at 7PM
Service
Providence Old Regular Baptist Church
.
Dry Creek, KY 41862
Cemetery Details
Location
Joe Hall Cemetery
.
Dry Creek, KY 41862