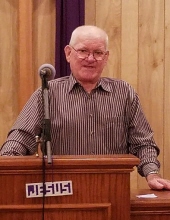 Obituary for Astor Mullins
Astor Mullins, age 67, of Ary, KY, passed Tuesday, September 19, 2017, at his home.
He was born at Noble, KY on July 22, 1950 to Woodrow Mullins and Mary Marshall Mullins.
He is survived by:
Wife - Sithy Jane Mullins
2 Daughters - Amanda (Hubert) Terry and
Allison (Anthony) Handshoe
4 Grandchildren - Harley Terry,
Chelsea Terry, Autumn Handshoe and Dylan Handshoe
1 Sister - Cora (Louis) Stacy
3 Brothers - Nute (Margaret) Mullins,
A.J. (Glenna) Mullins and Estill Mullins
Mother-in-law - Arminda Stacy Hays
Preceded in death by Parents - Woodrow and Mary Mullins
Daughter - Kimberley Mullins
Brothers - Arnold Mullins and Leonard Mullins
Funeral services for Astor Mullins will be held at the Hindman Funeral Services Chapel, Saturday, September 23, 2017 at 11:00AM with AT Hays, Kenneth Ritchie, Louis Stacy and David Slone officiating. Burial will follow at the Stacy Cemetery at Ary, KY. Visitation will be held at the Chapel, Thursday evening after 6PM with a Celebration of Life Service at 7PM and Friday after 6PM with Services at 7PM.
Previous Events
Visitation
Hindman Funeral Services
619 Hindman Bypass
P. O. Box 104
Hindman, KY 41822
Celebration of Life Service at 7PM
Visitation
Hindman Funeral Services
619 Hindman Bypass
P. O. Box 104
Hindman, KY 41822
Services at 7PM
Service
Hindman Funeral Services
619 Hindman Bypass
P. O. Box 104
Hindman, KY 41822
Cemetery Details
Location
Stacy Cemetery
.
Ary, KY 41712