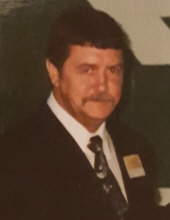 Obituary for Ronald Dwayne Honeycutt
Ronald Dwayne Honeycutt, age 69, of Pine Top, KY, passed away Thursday, December 27, 2018, at the Wells Hospice Care Center in Hazard, KY.
He was born in Pinetop, KY on July 31, 1949 to Warren G. Honeycutt and Juanita Sproles Honeycutt.
Survived by:
Wife- Wilma Jean Earls Honeycutt
Daughter- Chanda Joy (Brent) Nicholas
2 Sons- Michael (Gina) Honeycutt and Stephen Paul(Charity) Honeycutt
3 Granddaughters - Alexus Lauren Nicholas, Hailey Nichole Nicholas and Kaydence Jade Honeycutt
1 Granddaughter on the way
Brother - Roger (Mary) Honeycutt
Sisters - Anna Sue Honeycutt and Brenda (Bruce) Kelley
Preceded in death by Parents - Warren Honeycutt and Juanita Honeycutt
Brothers - James Lloyd Honeycutt, Paul Honeycutt and G.V. Honeycutt
Memorial Services for Ronald Dwayne Honeycutt will be held at the Kingdom Hall Jehovah's Witness at Sassafras, KY on Saturday, January 5, 2019 at 2:00PM with Nathan Mullins offficiating.
Previous Events
Service
Kingdom Hall of Jehovah's Witness
.
Sassafras, KY 41759
with Nathan Mullins