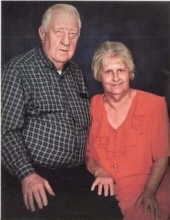 Obituary for James "Bill" Hall
James "Bill" Hall, age 78, of Thornton, Kentucky, passed away Saturday, March 2, 2019 at the UK Medical Center in Lexington, Kentucky.

Survivors
Children- Rene (Bryan) Palumbo, Michael Hall and Stacy Hall (Bobby) Monroe
5 Grandchildren- Jessica Palumbo (Bo Martensson), Zachary Palumbo, Ezekiel Palumbo, Whitney Hall (David Mobly) and Dylan Flick
1 Step Grandchild- Zacherey Dwayne Tray Monroe
1 Great Grandchild- Dayah Mobley
2 Sisters- Doris Lucas and Donna (Charles) Burton
Host of Nieces, Nephews, Relatives and Special Church Family
Special Friend- Dallas Monroe and Ritchie Kiser
Preceded in death by Wife- Mary Alice Hall
Parents- Alex and Ruby Sergent Hall
Brothers- Glenn Hall and Luther Hall
Sister- Pauline Farley


Funeral services for James "Bill" Hall will be held 11 AM Wednesday, March 6, 2019 at the Thornton Gap Old Regular Baptist Church at Thornton, Kentucky with Barry Lucas, Rueben Lykens, Ralph Cloud, Harvell Adkins and Roger Hicks officiating. Burial will follow in the Hall Cemetery at Thornton, Kentucky. Friends may call for visitation at the Thornton Gap Old Regular Baptist Church after 5 PM Tuesday with additional services at 7 PM.
Previous Events
Visitation
Thornton Gap Old Regular Baptist Chuch
-
Thornton, KY -
Additional services at 7 PM
Funeral
Thornton Gap Old Regular Baptist Chuch
-
Thornton, KY -
Officiating ministers Barry Lucas, Rueben Lykens, Ralph Cloud, Harvell Adkins and Roger Hicks