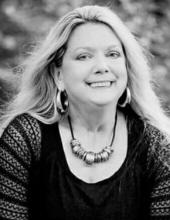 Obituary for Evelyn Gwen Hall Dawson
Evelyn Gwen Hall Dawson, age 61, of Richmond, KY, died Saturday, November 17, 2018, at Ky River Medical Center in Jackson, KY.
She was born in Martin, KY on July 23, 1957 to Elmer Hall and Edna Little Hall.
Survived by:
Children- Christy (Chad) Buettner Boyd of Kite, KY, Jamie Hall of Richmond, KY, Brandon (Jamie) Dillon of Knoxville, TN .
Granddaughters- Catarina Buettner, Claudia Buettner, Olivia Dillon, Annabella Hall, Willow Hall, Maddie Hall
Brothers and Sisters- Eva (Jack) Hall, Ellis (Diane) Hall, Estelle Fern Hall, Ethel (Devon) Thornsberry, Eldon (Debbie) Hall, Elowise (Donnie) Hamby, Emma (Solomon) Mullins and Edgel Hall
Preceded in death by Husband- Normand Jeffrey Dawson; Brothers and Sisters- Effie DeLong, Edgar Hall, Elsie Keathley
Funeral services for Evelyn Gwen Hall Dawson will be held at Hindman Funeral Services Chapel Saturday, November 24, 2018 at 11:00AM with Deffort Thornsberry and Curtie Hall officiating. Burial will follow at the Chase Hall Cemetery at Kite, KY. Visitation will be held at the Chapel, Friday evening from 6PM to 9PM with additional services at 7PM.
Previous Events
Visitation
Hindman Funeral Services
619 Hindman Bypass
P. O. Box 104
Hindman, KY 41822
with additional services at 7PM
Funeral
Hindman Funeral Services
619 Hindman Bypass
P. O. Box 104
Hindman, KY 41822
Cemetery Details
Location
Chase Hall Cemetery
.
Kite , KY 41828