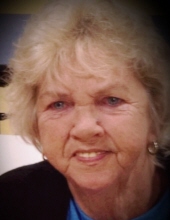 Obituary for Elsie Stacy
Elsie Stacy, 76, of Lotts Creek, KY, died Monday, August 19, 2019, at Lakewood Ranch Medical Center in Bradenton, FL.

She was born in Hazard, KY on July 1, 1943 to Joseph and Callie Morton Mullins. She was a Kentucky Wildcats fan and enjoyed Nascar, Bingo, and a warm fire.

She is survived by her Sons – John D (Kim) Smith, Don (Tammy) Smith, and David (Kristen) Stacy; Daughters – Linda (Johnny) Wilson and Tonya (Dennis) Montjoy; Grandsons – Steven Smith, Eric Smith, Joshua Smith, Aaron Sizemore, Matthew Smith, Tristan Smith, Will Street, Cody Miracle, Collin Stacy, Logan Stacy, Chandler Montjoy, and Jordan Stacy; Granddaughters – Angela Smith, Nichole Street, Siera Smith, Ashley Street, Courtney Bryant, Liz Montjoy, and Reagan Stacy; Great-Grandsons Ty and Bo; Brothers – Donald Ray Mullins and Milliard 'Tub' Mullins; and Sisters – Shirley Mullins, Mary Mullins, Margaret Mullins, Emily Martin, Diane Oaks, Jean Holliday, and Patsy Messer.

She was preceded in death by her Husband Aaron Stacy and Siblings Polly Ellen Mullins, Jasper Mullins, Billy Mullins, and Geneva Mullins.

Visitation for Elsie Stacy will be held at Clear Fork Church (4738 Lotts Creek Road, Hazard, KY) on Saturday August 24, 2019 starting at 12 PM with church service at 7PM. Additional visitation on Sunday August 25 after 10 AM. Funeral services will be held at the Church on Sunday August 25 at 2 PM with Carl Smith and Jeff Combs officiating. Burial will follow at the Jim Grigsby Cemetery on Elk Fork Road.
Previous Events
Visitation
Clear Fork Church
Route 1088
Lotts Creek, KY 41701
with additional services Saturday evening at 7PM
Funeral
Clear Fork Church
Route 1088
Lotts Creek, KY 41701
with Carl Smith and Jeff Combs officiating.
Cemetery Details
Location
Jimmy Grigsby Cemetery
.
Lotts Creek, KY 41743