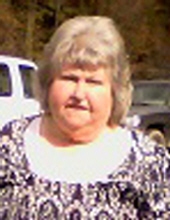 Obituary for Ruby Jane Gibson
Ruby Jane Gibson, age 75, of Pinetop, Kentucky, passed away Saturday, June 17, 2017 at the Whitesburg Appalachian Regional Medical Center. She was born in Somerset, Kentucky on August 25, 1941 to Starlin Casada and Dessie Marr Casada.


Survivors
Husband- Delmas Gibson
2 Sons- Johnny (Stacy) Casada and Johnny Gibson
2 Daughters- Paula (Wadie) Hunter and Freda Kay Amburgey
12 Grandchildren and 17 Great Grandchildren
Brothers and Sisters- Grover, Chester, Dallas, James, Mark, Lucinda and Phyllis
Preceded in death by Daughter- Sondra Rowe
Brothers and Sisters- Etta Mae and Elmer


Funeral services for Ruby Jane Gibson will be held 2 PM Monday, June 19, 2017 at the Hindman Funeral Services Chapel with L.C. Slone and Jerry Hall officiating. Friends may call for visitation after 11 AM Monday prior to the funeral.