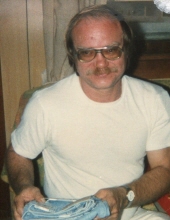 Obituary for Jesse Kenneth Herald
Jesse Kenneth Herald, age 62, of Clear Creek at Fisty, KY died Friday July 14, 2017 at the Hazard Appalachian Regional Medical Center. He was born at Hazard, Kentucky on August 21, 1954 to Jessie Herald and Ruby Mosley Herald

Wife- Bobette Kay Coolman Herald
Daughter- Angela Marie Herald (James)
Grandchildren- Layne Eden Alexander Griffie
and Aleah Sanee' Griffie
Brothers- Gilbert (Nikki McDaniel) Herald, Larry (Chelsea Smith) Herald, Lawrence (Hazel Napier) Herald
and Willis (Leeann) Herald, William Herald
Sisters- Linda (Michael) Kilburn, Abby (James Hale) Herald
and Cindy (Sammy Cornett) Herald
A host of Nieces and Nephews
Preceded in death by Brothers and Sisters- Nellie Hollifield,
Wilton Herald, C.A. Herald and Garfield Herald


Funeral services for Jesse Kenneth Herald will be held 1 PM Sunday, July 16, 2017 at the Hindman Funeral Services Chapel with Johnny Patrick officiating. Burial will follow in the Buck Herald Cemetery at Jackson, Ky. Friends may call for visitation from 11 AM - 1 PM Sunday prior to the funeral.
Previous Events
Visitation
Hindman Funeral Services
619 Hindman Bypass
P. O. Box 104
Hindman, KY 41822
funeral
Hindman Funeral Services
619 Hindman Bypass
P. O. Box 104
Hindman, KY 41822
Johnny Patrick officiating