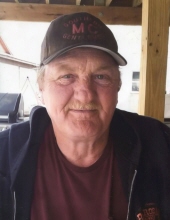 Obituary for Galvin Bolen Jr.
Galvin Bolen, Jr., age 67, of Cherryville, NC, formerly of Rockfork, KY, passed away Saturday, August 12, 2017, at the Kindred of Greensboro in Greensboro, NC.
Survived by:
2 Sons - Galvin Clinton Bolen and Adam Bolen (Kimberly Bell)
Grandchildren - Cynthia Paige Bolen, Eden Rebecka Bolen,
Adam Michael Bolen, Savannah Jane Bolen,
Jessie Shane Bolen, Hannah Lee Bolen, Christy Irene Amelia Bolen, Brittany Nicole
Bolen, Adrian Helms, Mary Helms and Leigha Tow
Brothers - George (Francis) Bolen, Adam Bolen and Dallas (Dorothy) Bolen
Sisters - Viola (Roger) Grose, Veda (Pat) Bolen and Eva Mae Barton
Host of Nieces and Nephews
Preceded in death by Parents - Galvin and Eva Bolen
Wife - Mary Bolen
Daughter - Michelle Bolen
Brothers - Clarence Bolen, David Bolen, Mike Bolen and Donald Bolen
Sisters - Della Jean Brewster
Funeral services for Galvin Bolen Jr. will be held at the Rockfork Regular Baptist Church, Wednesday, August 16, 2017 at 12:00PM with Willie Crase and Daryl Slone officiating. Burial will follow at the Bolen Cemetery at Rockfork, Garrett, KY. Visitation will be held at the Church, Tuesday evening aflter 5PM with additional services at 7PM.
Previous Events
Visitation
Rockfork Regular Baptist Church
.
Rockfork
Garrett, KY 41630
With additional services at 7PM
Service
Rockfork Regular Baptist Church
.
Rockfork
Garrett, KY 41630
Cemetery Details
Location
Bolen Cemetery
.
Rockfork
Garrett, KY 41630