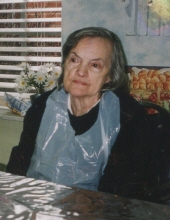 Obituary for Abbie Irene Owens
Abbie Irene Owens, age 95, of Hindman, KY, formerly of Clear Creek, died Tuesday at the Hazard Appalachian Regional Medical Center. She was born at Hardburley, Kentucky on March 22, 1922 to James Owens and Betty Hall Owens.

Survivors
Sister-in-law- Evelyn Owens
Brother-in-law- Hugh Glen Hunt
Host of Nieces and Nephews
Her Loving Knott County Nursing Home Family


Graveside services for Abbie Irene Owens will be held 3 PM Thursday, August 31, 2017 at the Ritchie Cemetery on Clear Creek at Fisty, Kentucky with Dylan Combs officiating.